What distinguishes The Rob Levit Trio from the myriad of fine jazz groups today?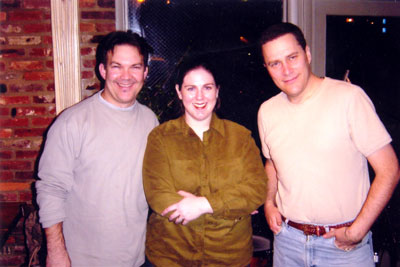 Interacting with the audience to create an intimate and meaningful performance that will long be remembered.
Commitment to educating youth and audiences of all ages on the unique place jazz holds in creativity, culture, and history.
High standards of professionalism and efficiency in business and performance logistics for venues.
The Rob Levit Trio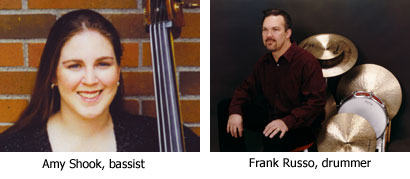 The Rob Levit Trio, one of the best loved jazz groups in the mid-Atlantic region, is anchored by acoustic bassist Amy Shook, one of the few women acoustic jazz bass virtuoso in the world, and master drummer Frank Russo. Together, they create a seamless mix of jazz, world, classical, and funk grooves that is rapidly vaulting them to national and international status. Led by guitarist/composer/visual artist Rob Levit, The Trio performs nationwide -- with recent shows in Coastal Carolina, Pittsburgh, San Francisco, Seattle/Bellingham, Washington, DC at the Smithsonian and Rock Hall, Maryland. Rob Levit has also appeared on the mainstage of the Montreal Jazz Festival, Texaco New York Jazz Festival, and the National Arts Centre as part of the Ottawa International Jazz Festival/ Their recently released CD, Uncertain Path, was played on NPR's Morning Edition and reviewed in over a dozen national media outlets, including Jazz Times, Jazz Improv, and All About Jazz.
What the press says about The Trio: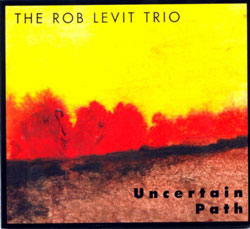 "Each member of the ensemble is great as a player, but more importantly each plays a dynamic role in the service of the composition. Fans of great guitar and trio playing will certainly enjoy taking the paths that unfold throughout this contemporary recording."
Jazz Improv Magazine
"Levit's s band furrows into fresh soil, implanting their own unique playing styles and compositional/arrangement savvy -- not usually heard among American Jazz trios of similar ilk."
Abstract Logix
"Last night in a small Annapolis restaurant, I came face to face with musical greatness. Levit seemed unconstrained, both technically and imaginatively, launching into passages that recalled Pat Metheny, Bill Frisell, Wes Montgomery, Danny Gatton, and most especially John McLaughlin."
The Washington Post